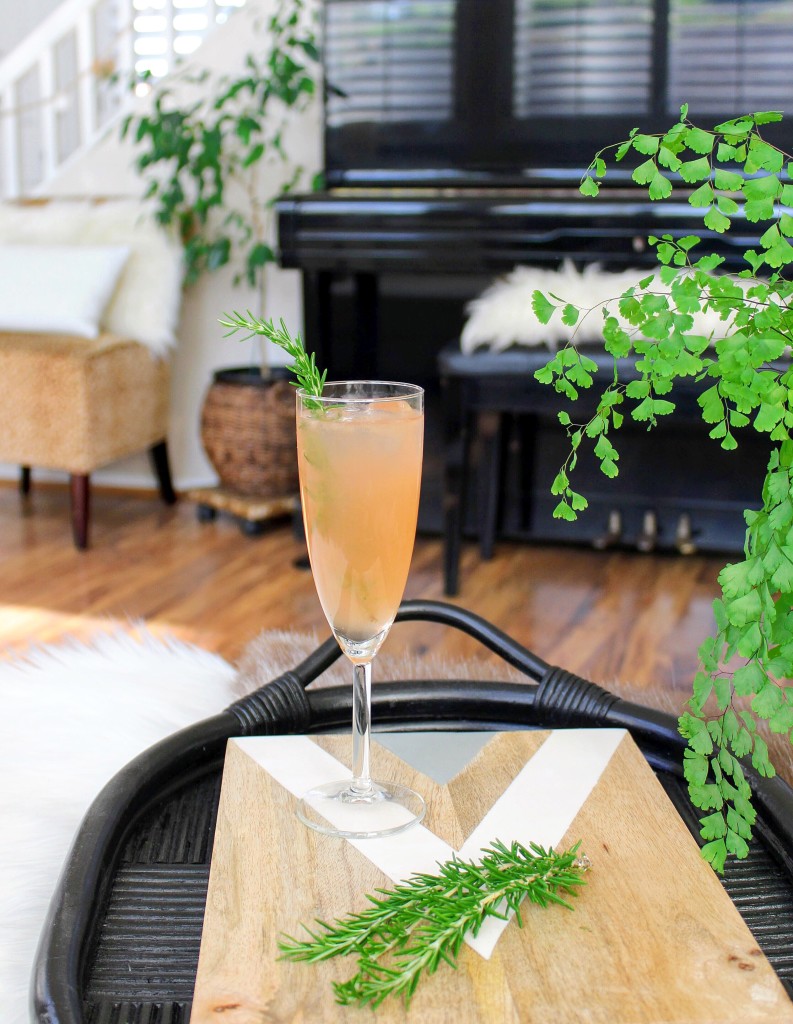 Hi All… Welcome to The Craine's Nest!
Summer's in full swing here in Temecula and we'll be hosting a brunch at our place, this weekend. I'd like to do something different than the usual Mimosa. We're in a new house, surrounded by life, vegetation, and beauty and I want something more interesting (and more fresh) than store-bought O.J. and sparkling wine. Also, sometimes I like to pretend I'm a chef or drink innovator of some kind and bust out the gourmet ingredients… about 10% of the time this actually works out. The other 90% it's everyone saying "oh yeah, this is good… mmm… interesting flavors" things like that, and a week later the leftovers are still sitting in the fridge, or drinks are left to melt, half full on the table… but it's ok, because I still enjoy trying! Luckily, this one turned out. At least in my mind it did. You can try it for yourself and let me know!
We recently discovered a huge rosemary bush that spans about half a city block just behind our back fence line, so I decided that whatever drink I make, that should definitely be incorporated. We've come to realize that rosemary grows wild all over this town… it's a beautiful thing!
So, with all that fresh rosemary in my possession, I've decided to do a twist on the classic Mimosa. I'll be swapping the orange juice with fresh squeezed ruby red grapefruit and the sparkling wine for sparkling rose. A rosemary simple syrup and a sprig of fresh rosemary rounds it out. It's yummy and refreshing!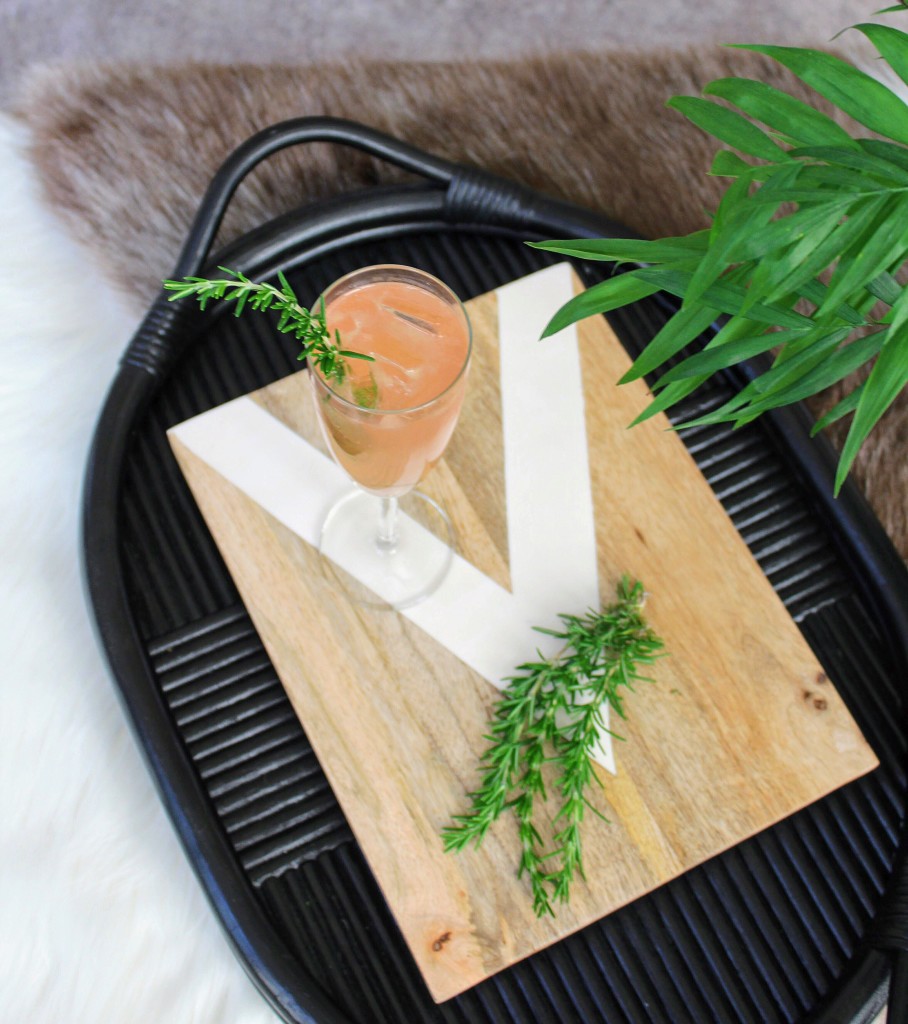 Here is what you'll need:
Freshly squeezed grapefruit juice (1 grapefruit yields about 1 cup of juice)
Sparkling Rose
A big bunch of rosemary
Sugar
Water
Ice
For the Simple Syrup: It's best to do this hours before, if possible. Put 1 cup of water and 1 cup of sugar in a small pot with a bunch of rosemary, roughly chopped. Put the heat to medium-high and stir the water, sugar, and rosemary together until the sugar dissolves completely (about a minute to a minute and a half). Keep stirring for another minute or so, on medium heat and then lower the heat and allow to simmer for another couple of minutes. Take the pot off the heat and let the syrup steep for about half an hour. After it's cooled, pour the syrup through a fine colander to separate the rosemary stalks from the syrup. Once you have a clean, cool syrup, put it into an airtight container and then into the fridge. It will keep for about 2 weeks:
Next, cut your grapefruit into pieces and squeeze with a citrus press into a bowl or large cup: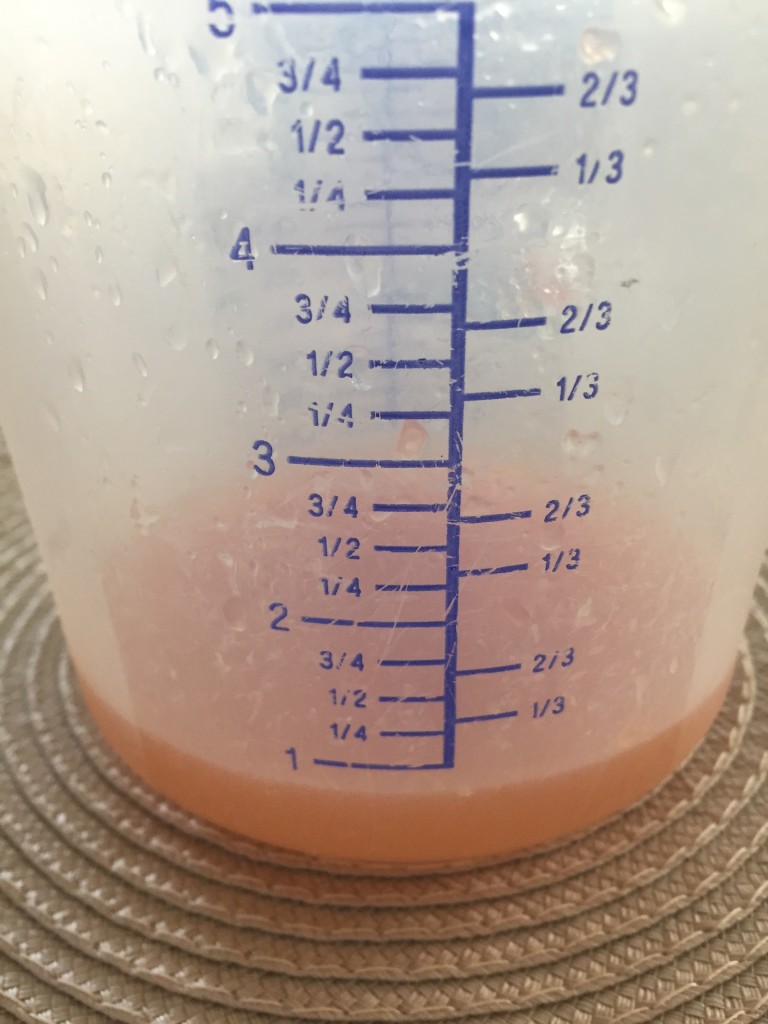 You should get about a cup or just under of juice from one grapefruit. Now, pour the juice through a fine colander to get rid of the pulp: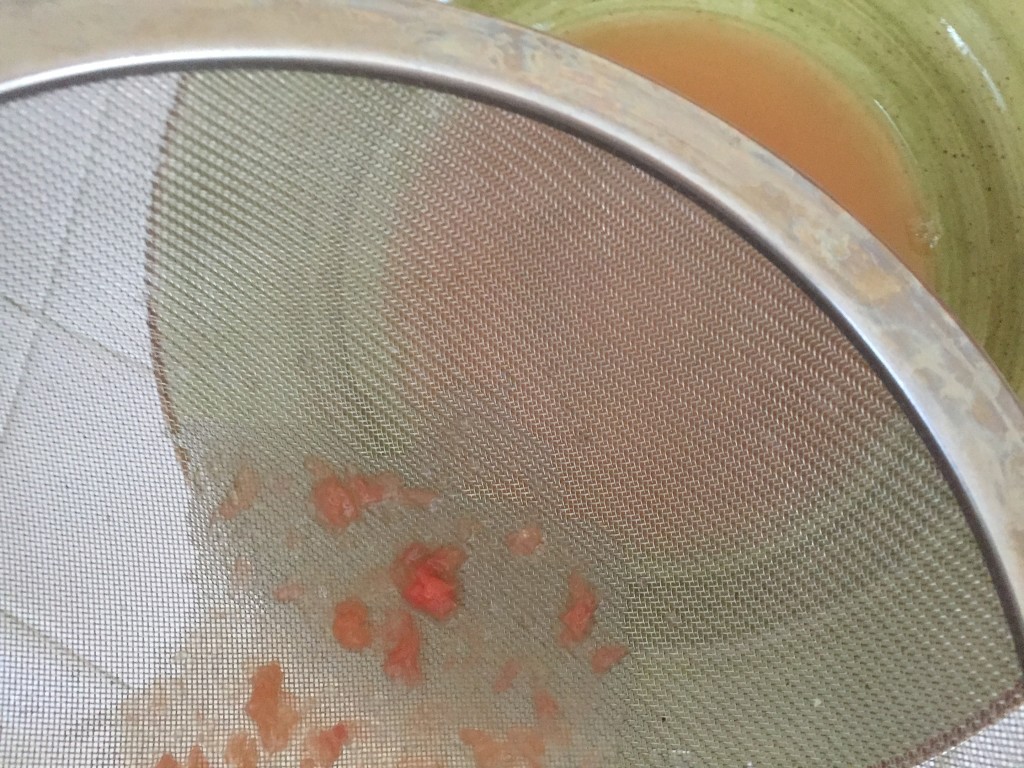 You'll be left with a silky smooth grapefruit juice: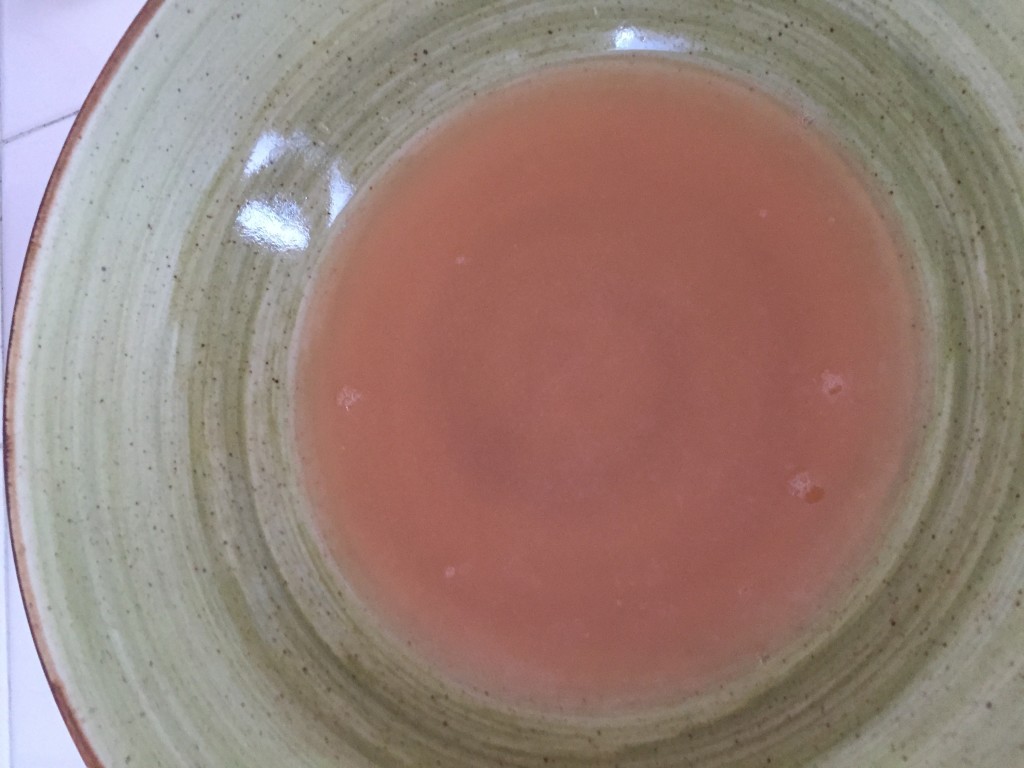 Fill a champagne flute with a bit of crushed ice (most mimosas don't have ice, but it's really refreshing in this drink- if everything is VERY chilled, it would work without, too) and about 3/4 of the way with your sparkling rose: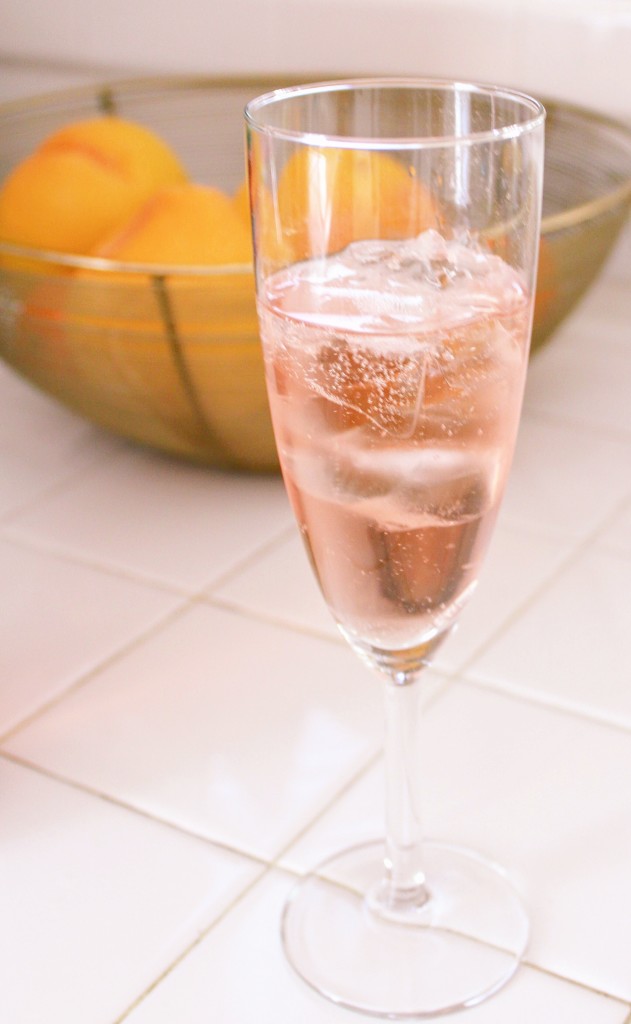 Next, add 3 teaspoons of your simple syrup, stir, and then lastly, top it off with the fresh grapefruit juice. Give it a good swirl to combine all those aromatics, put in your rosemary sprig, and your beautiful Grapefruit and Rosemary Sparkling Rose Mimosa is ready to serve.
Bottoms up!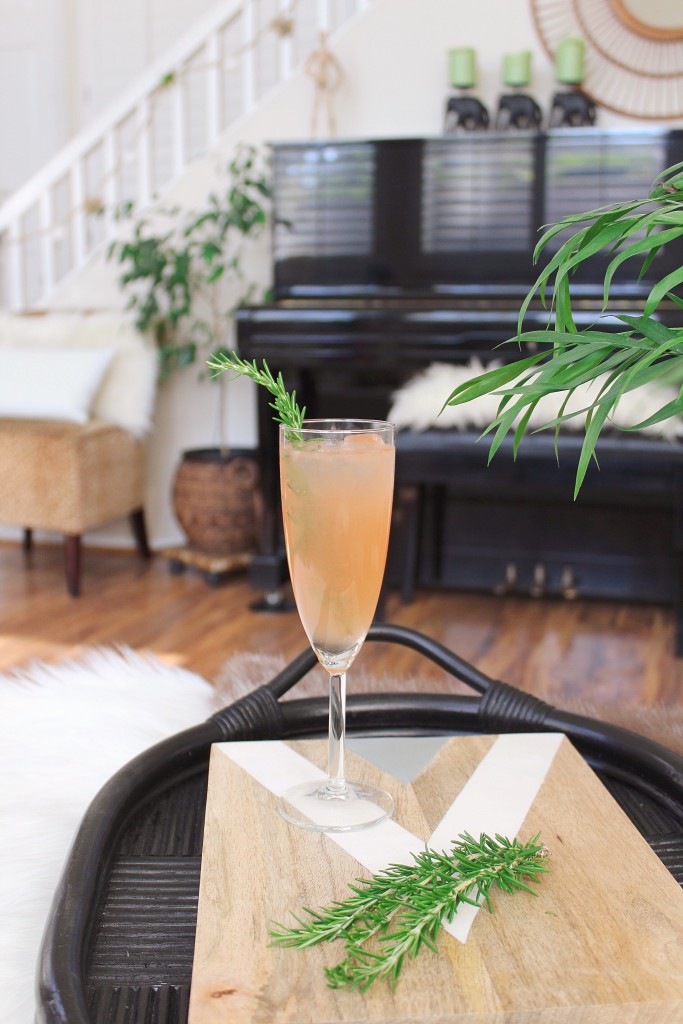 For another one of my "modern versions on the Mimosa" go to my blog post Raspberry and Rosemary Mimosa with Sparkling Rose.
Happy Nesting.
Kirstie xo