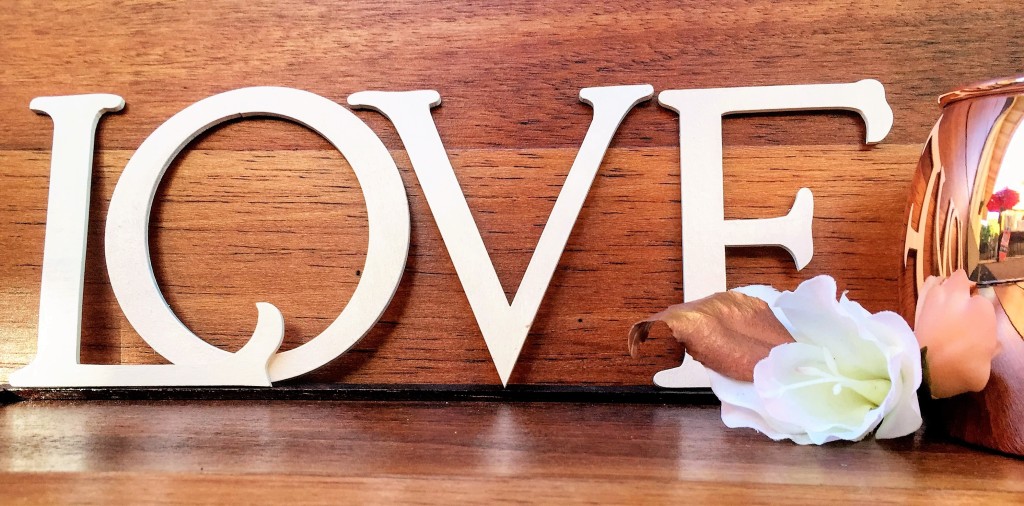 Welcome to the Craine's Nest!
Lately, I've been loving… Blush and Copper. This duo combines beautifully, to create a sweet effect in any room or vignette. The sheen of the warm copper sitting beside the blush of the cool pink, is pretty, feminine, and relaxing. Place these lovely mates alongside warm, rich wood, and you strike a peaceful and harmonious visual balance.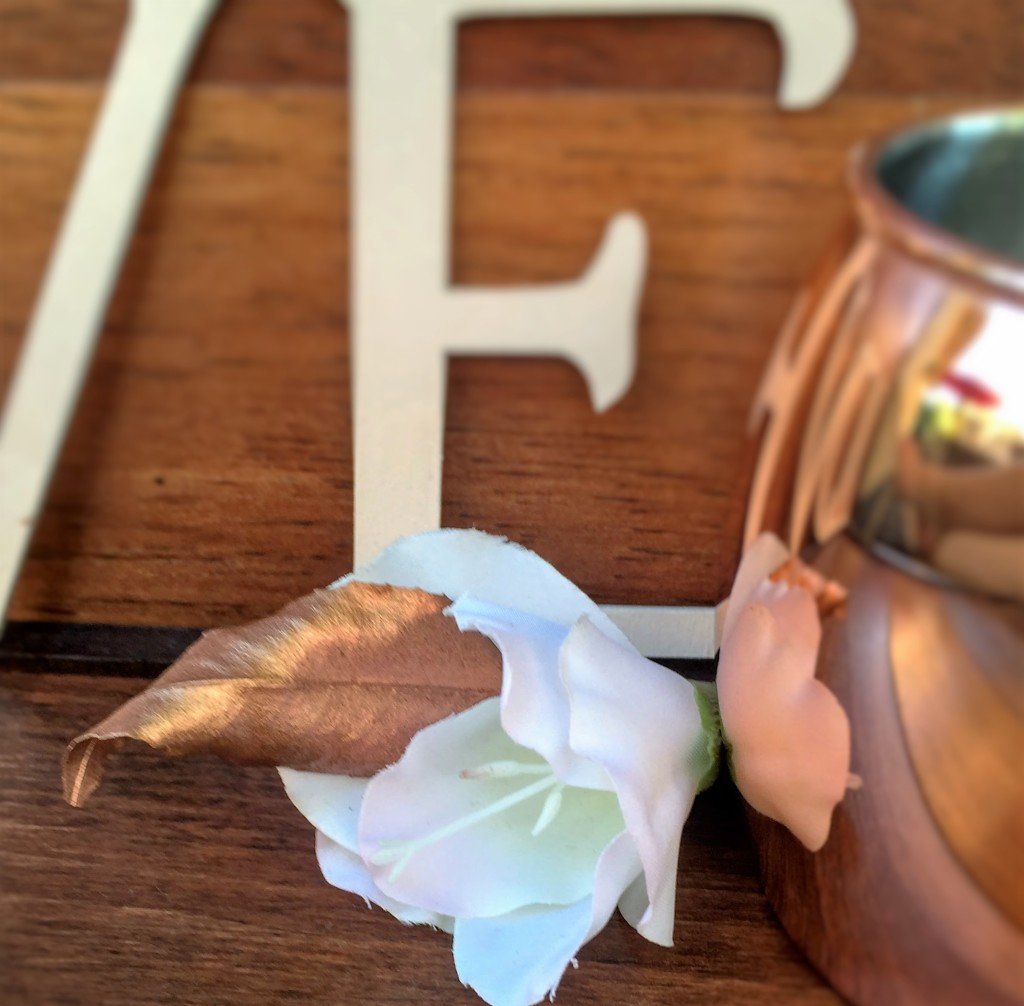 I browsed the internet looking for examples of Blush and Copper (the "LOVE" images above, are my own) and was pleased to find many an image on Pinterest representing this beautiful duo. The room shown in the photo above was one of the first that I noticed, with its gorgeous statement pendants and perfect blush walls. I wish I knew who designed and photographed this space, so I could give them proper credit. I love it! Interjecting my own idea into this theme, I would tweak it just a bit, by adding some darker wood to "cozy" up the space, and play off those cool gray walls. Perhaps the table and chairs could go a warmer, darker wood and other features could be added, like wooden vases. A warm wood console table by the door in the background against the blush pink wall, would add balance to this warm wood theme.
I love this soothing bedroom, found on the blog, Apartment Therapy, in the post, "10 Shades of Gray in the Bedroom":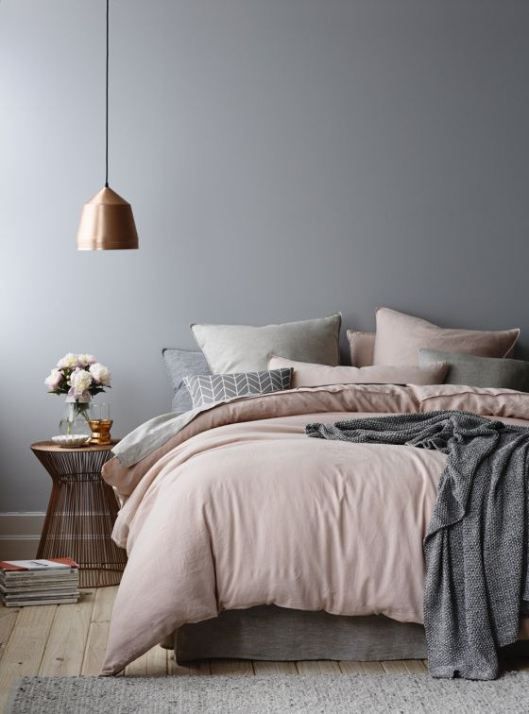 The size and shape of the side table is beautiful, but once again, I'd like to see it in a deep, warm wood tone, instead of metal. I think a beautiful wood headboard would also be in order. I love coziness… and warm wood makes everything more comfy! Again, the wood would play beautifully off the deep, dark surrounding gray.
Loving this gorgeous collage put together by Lilliana Vasquez of the Today Show: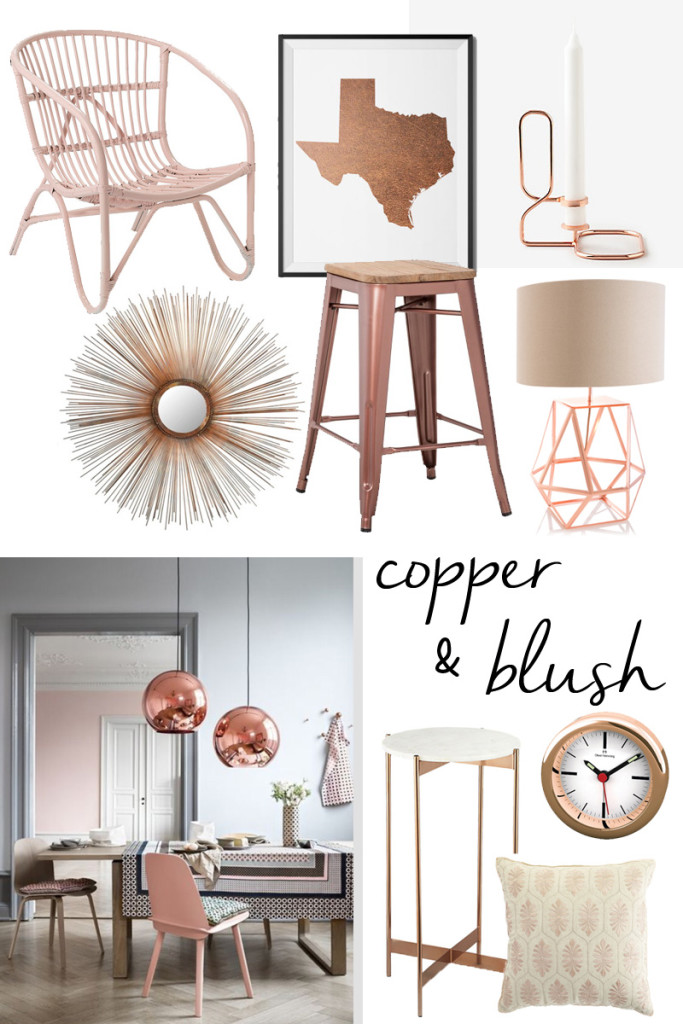 The only thing I would change here, would be the sunburst in the middle of the collage. I would replace it with my own seagull sunburst mirror! I think it would give this board more attitude and whimsy. Oh… and maybe a fluffy sheepskin throw or 2! This shaggy Mongolian faux fur throw, found on Etsy, would be perfect… or this natural white Icelandic sheepskin sold at Cowboy Kate, would be gorgeous. She's one of my favorite girls to follow on Instagram. Go check out her feed @cowboykate, because it's something to see… moody, dark, edgy, and dramatic!
Loving this dining set-up shown on the blog, Anne Marie Mitchell: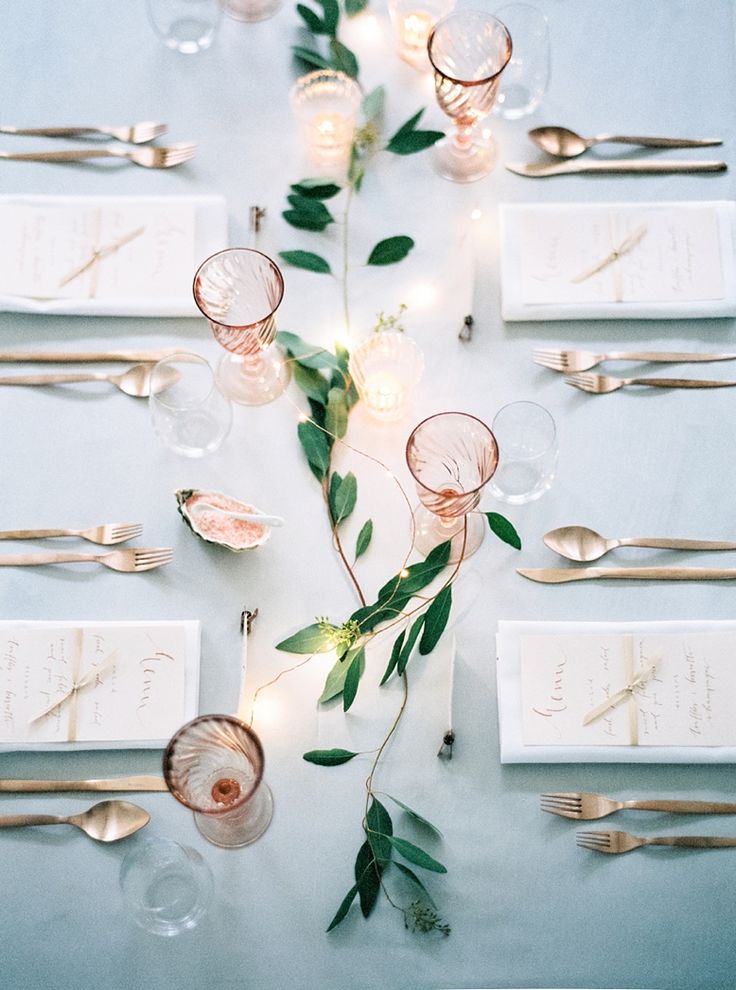 It's absolutely beautiful. I love the pink salt in the seashell. I might add small pinecones or acorns and soft pink blossoms, instead of the yellow. Love that eucalyptus, and those copper utensils are a must have!
I would make the walls in both photos below a lighter blush pink, although this dusty rose IS very relaxing. Love ALL of the pendants in both images:
Image shown on blog, Anne Marie Mitchell: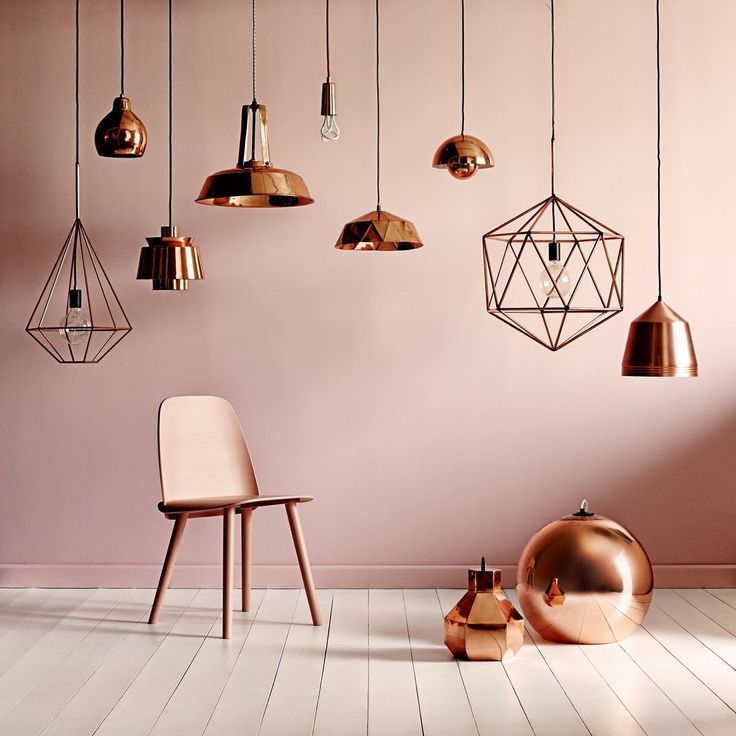 Image found on Pinterest:

And last but not least, I want to finish with one of my favorite bloggers, Justina Blakeney. Her blog, The Jungalow, is an inspiration to me, every day. If you haven't checked it out, go there right away! She's probably the one who started the blush and copper trend (as well as the macrame, plant phenomenon, wicker comeback, and many others)! She's a free spirit with a strong and clear voice, and an amazing sense of style. A true talent… definitely one-of-a-kind! Here is her take on Blush and Copper: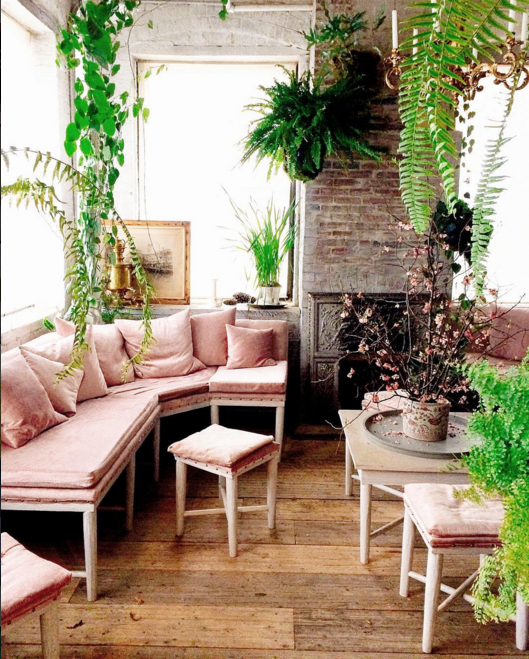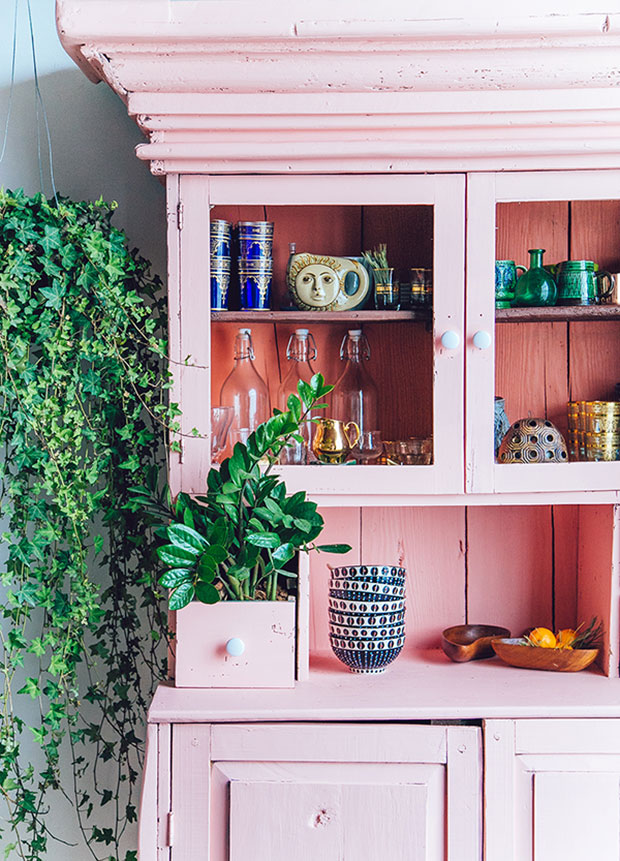 Most images you see from Justina Blakeney will be loaded with plants and have a distinctly bohemian vibe (her blog, IS after all, The Jungalow!). The first image above, was taken by Dabito of Old Brand New. He and Blakeney work together, frequently. Again, if you haven't gone there, go check out his blog. Dabito is awesome! Love the blush colored chest, directly above. There's no copper in this image, in fact, most of the metals shown, are bronze or soft gold, but copper would be beautiful with the soft pink of the cabinet. Copper drawer and cabinet pulls would be so pretty added to the chest, with copper bowls and mugs sitting in the glass covered shelving area. Add some warm wood figurines and bowls, keep those plants hanging around, and you've got a perfect blush and copper dining cabinet! It's gorgeous just the way it is, too… I love Justina Blakeney's relaxed sense of style!
This Blush and Copper Combo originally made an appearance around the end of 2014 to the beginning of 2015, but it seems to have just entered the mainstream, in the last few months. At this point, copper seems to have worked its way into most households, in some form or another. You can find everything from copper utensils to cups, bowls, and plates, to room accents and pillows, almost anywhere (including Target). Pantone chose Rose Quartz as its Color of the Year for 2016, and it's definitely a 'blush pink'. If you're not familiar, Pantone is the leading authority on color and color trends, so I think this trend will be around for a while yet. I'm not one to care too much about what's "so last year", but things DO get old when you see them too much and too often. Having said that, I don't think the blush trend has sunk its teeth in enough to get boring just yet. The copper trend has definitely arrived, but I think copper is so classic that it will be here for a long time to come (as brushed nickel was the standard "go-to" for a decade or more).
So on that note, go get your girly groove on! If I was a single girl with my own place, I think my entire living space would be blush and copper… as it stands, my husband would probably get sick of the combo fairly quickly, so I'll have to be ok with a Blush and Copper nook or 2. Try some soft pink blooms in a Copper Mule Mug or pick up some wood letters at Michael's like I did, and spray them Ballet Slipper by Krylon. Grab some leaves or clippings from your garden and spray them a copper metallic color. Throw those in a soft pink vase and you've got a corner of Blush and Copper.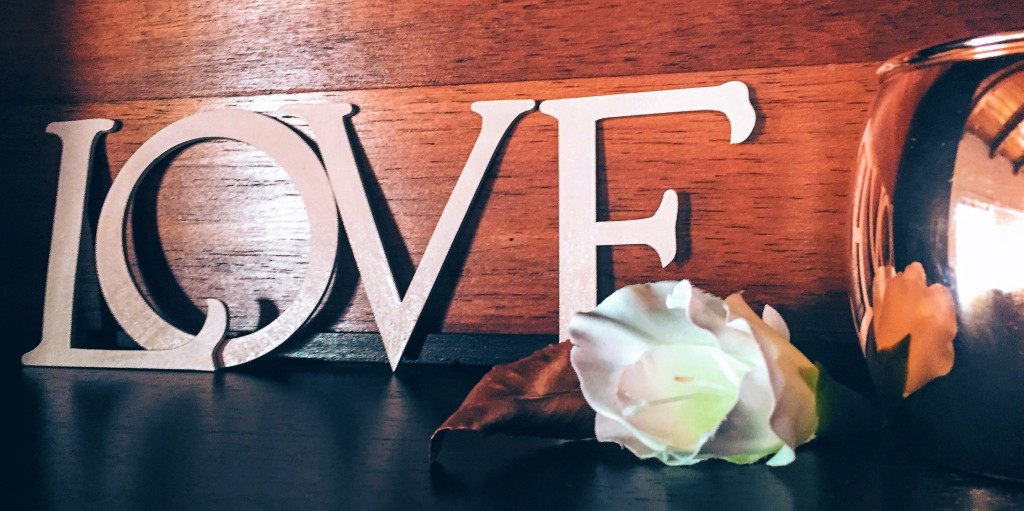 Or… wrap a gift! To see modern wrapping samples and a step-by-step on the wrap below, go to my post, "Modern Gift Wrapping with Flowers, Plants, Succulents, and Seagulls"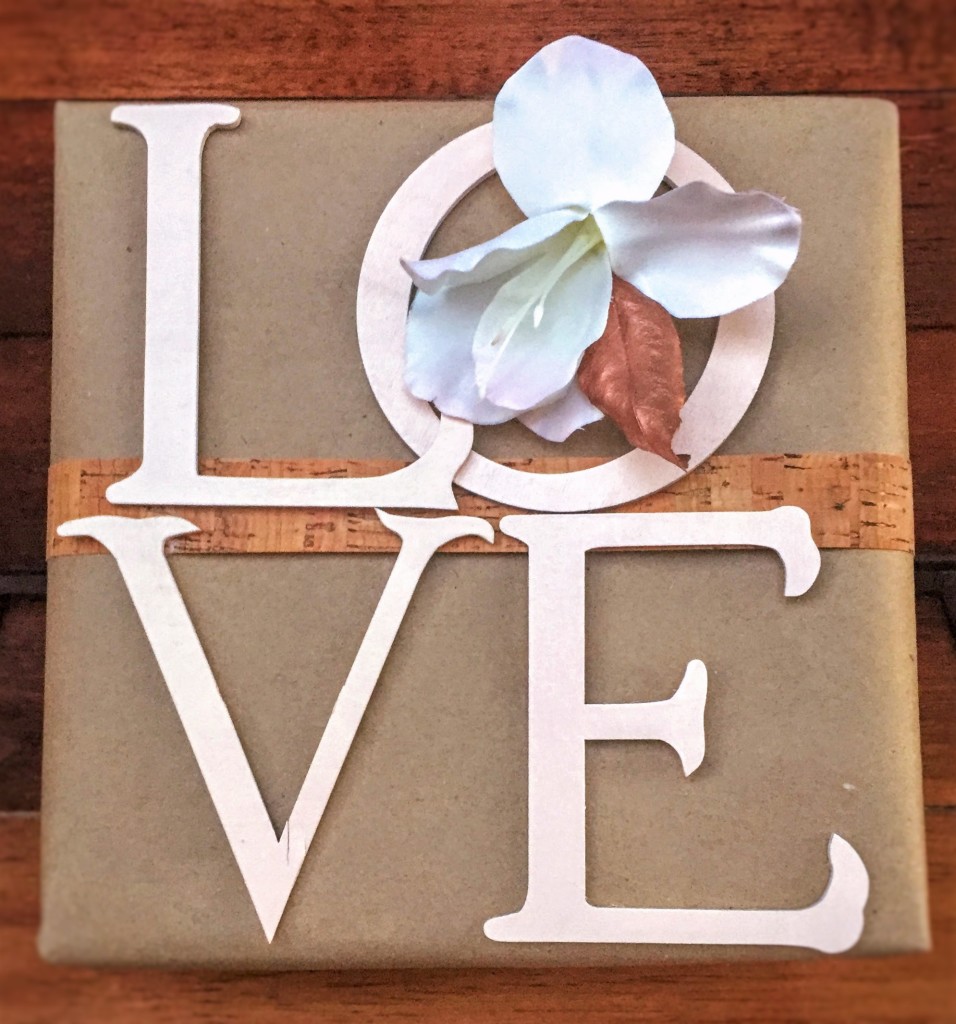 There are so many different directions you can go with this trend. If I didn't already have my many years of Halloween paraphernalia collected, I would do a Blush and Copper Halloween! If anyone goes for that, PLEASE send pics so I can live vicariously :).
Thanks for hanging out with me, today. If you give this trend a go in your home, please send some shots. I would love to see your creative visions! Until next time…
Happy Nesting.
Kirstie xo
Save
Save
Save
Save
Save
Save
Save
Save
Save
Save
Save
Save
Save
Save
Save
Save
Save

Save
Save
Save
Save
Save
Save
Save
Save
Save
Save
Save
Save
Save
Save
Save
Save
Save
Save
Save
Save
Save
Save
Save
Save
Save
Save
Save
Save
Save
Save
Save
Save
Save
Save
Save
Save
Save
Save
Save
Save
Save
Save
Save
Save
Save
Save
Save
Save
Save
Save
Save
Save
Save
Save
Save
Save
Save
Save
Save
Save
Save
Save
Save
Save
Save
Save
Save
Save
Save
Save
Save
Save
Save
Save
Save
Save
Save
Save
Save
Save
Save
Save
Save
Save
Save
Save